Tips for Hosting Friends in a Small Space
Who says you can't host family and friends during the holidays in a small apartment? If you have the right strategies and solutions, you can create a warm and welcoming environment for your family and friends.
It's crucial to clear clutter and find temporary storage options before you host. That's where Superior Storage comes in. This guide will easily show you how to host a party in a small apartment for the holidays. Transform your small space into a cozy gathering place and make lasting memories.
Assessing Your Space Limitations
Look around before you start cleaning and organizing your apartment. Check out what you need to do. Do you need to clear out a cluttered guest room? Do you need furniture temporarily stored so you can entertain? Knowing your specific storage needs will help you plan better. Think about your available space, your room layout, and rooms' functionality.
You can maximize space by repurposing or rearranging spaces. If you have limited space, you can devise practical and creative solutions that accommodate guests without sacrificing comfort or style using multifunctional furniture and vertical storage solutions. This could include turning a spare bedroom into a dining room or transforming a storage room into a seating area, for example.
Clearing Clutter Effectively 
Your guests want a functional and inviting space, so get rid of clutter first. Declutter one area at a time, like the kitchen, so you can host a dinner party in a small apartment. Pick items to keep, donate, or discard once you've found a location to start in. 
Get rid of clutter year-round by organizing and creating a neat space with bins, baskets, and shelves. Once you've decluttered, use innovative storage solutions like under-bed storage. Regular decluttering makes your space feel bigger and your holiday guests feel welcome.
Utilizing Temporary Furniture Storage 
Temporary furniture storage can be a game-changer when hosting in a small space. Superior Storage can help you with that. Our convenient and secure residential storage allows you to store your furniture during the holiday season.
Superior Storage offers flexible storage solutions tailored to your needs, whether it's a bulky dining table or extra seating. You can focus on making your guests feel comfortable and welcome with peace of mind, knowing your furniture is in good hands.
Rent a storage unit at your nearest self storage facility and gain valuable space for gatherings by storing non-essential pieces until you need them again. With temporary furniture storage, you can transform your space into a functional and inviting environment that perfectly fits your holiday celebrations.
Creating a Functional Guest Room 
Make sure your guests have a comfortable and functional guest room, even if you have limited space. Choose furniture that will save space, like foldable beds, storage ottomans, and wall-mounted desks. These versatile pieces provide comfort while maximizing space. You can also create an illusion of a bigger, more open space by using light colors, mirrors, and strategic lighting.
Put a quality mattress, comfy bedding, and plenty of pillows on the guest bed to ensure a restful night's sleep. Provide storage options like a dresser or closet for guests to unpack and organize their stuff. Make your room feel welcome by adding thoughtful touches like a lamp, fresh flowers, or a scented candle. Creating a functional guest room will make your guests feel comfortable and welcome.
Preparing Your Common Areas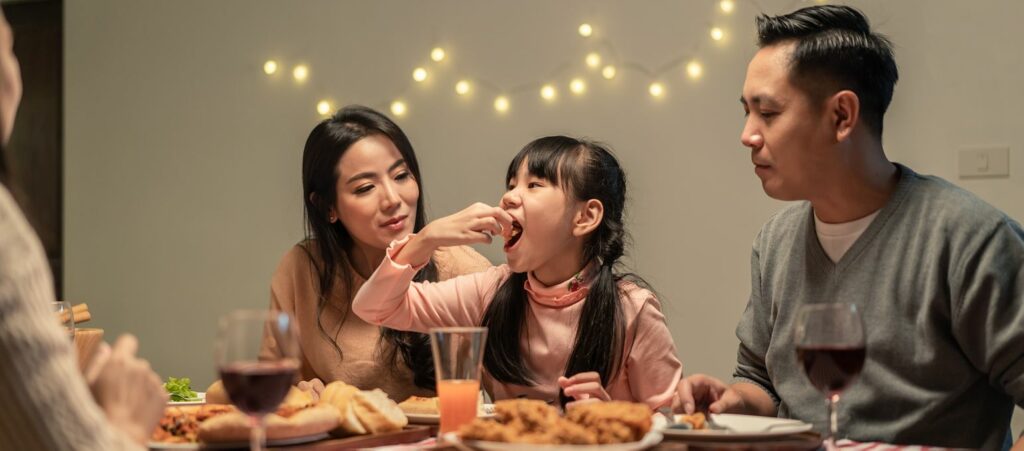 To ensure a seamless entertaining experience, it's essential to organize your common areas. Declutter the living room, dining room, and kitchen, and remove anything unnecessary. You can add seating options such as floor cushions or folding chairs to accommodate more guests. Rearrange furniture to maximize space and create a flow for socializing.
You can make your common areas feel comfortable and welcome by using décor like throw pillows, blankets, and artwork to enhance the ambiance. Be sure to have plenty of natural and artificial lighting to create a warm and inviting atmosphere. Keep guests entertained with books, board games, or your favorite TV show. With cozy common areas, you can set the stage for enjoyable socializing.
Essential Hosting Supplies and Decorations 
When hosting in small spaces, it's crucial to be strategic with your supplies and decorations. Ensure you have plenty of serving dishes, glassware, and extra linens to accommodate your guests.
Prioritize the essentials to enhance the hosting experience without overwhelming your limited space. Choose small decorations, like mini Christmas trees and string lights that can be used multiple years and won't take up too much storage space when not in use. If you do find yourself with an abundance of seasonal decorations, a self storage unit from a Superior Storage facility can provide an easy and convenient place to keep them as the weather begins to warm.
Tips for a Stress-Free Hosting Experience 
It's important to plan and delegate tasks effectively to ensure a smooth and enjoyable guest experience. Staying organized throughout the process of planning a gathering requires a comprehensive hosting timeline and checklist.
If you're struggling, don't be afraid to ask friends and family for help. Not only will it make the process go faster, but you'll also share some laughs and lively spirit along the way. Hosting should be a joyful occasion, and with careful planning, you can create memories that last far beyond the day your guests head back home.
Host in Style With Superior Storage this Holiday Season 
Just because you live in a small space doesn't mean you should miss out on hosting family and friends this holiday season. With motivation to organize and some help from a self storage unit, you can easily clear out clutter and open up your home to your loved ones. Make your space a haven for gatherings with these tips and smart design strategies.
Browse our residential storage units to discover our range of storage solutions for your home. Find storage in Arkansas, Florida, Georgia, North Carolina, or Wisconsin to get started on your holiday hosting prep today! You'll also find helpful packing tips on our website so you can maximize your storage unit's potential.
More From Superior Storage